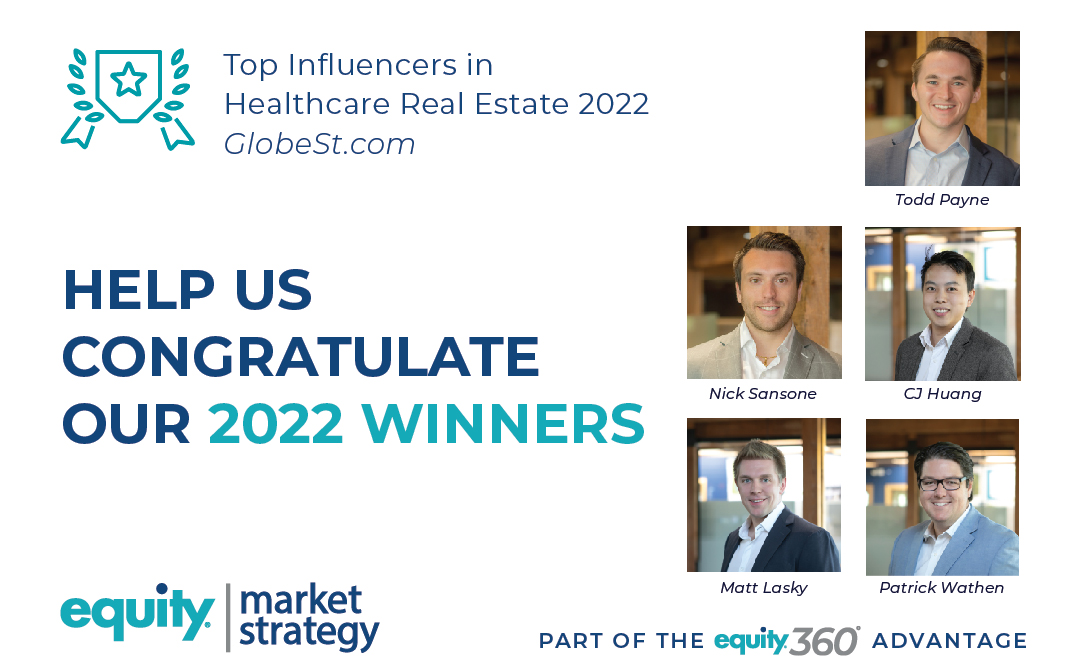 Equity Market Strategy Named In 2022 Top Healthcare Influencers by GlobeSt
December 7, 2022
FOR IMMEDIATE RELEASE:
December 7, 2022
Columbus, Ohio

EQUITY MARKET STRATEGY Founded in 2007, Equity LLC's market strategy team was formed to capitalize on the convergence of healthcare delivery in a retail setting. It started with urgent care spaces coming out of the 2008 recession and it went on to complete more than 250 urgent care properties, primarily in endcaps of outparcels to major shopping centers, capturing 10% market share between 2011 and 2013. More recently, the team completed more than 150 behavioral health transactions, predominantly in a medical office setting, resulting in more than 10% market share.
Over-all, the team has now completed transactions in 45 states, representative of more than 18 different healthcare use types in retail and healthcare settings. As a tenant-only advocate, the team is frequently approached by landlords with questions about how to incorporate medical uses into their projects. Co-led by president Patrick Wathen and managing director Matt Lasky, the team handles front-end analysis through site selection, lease negotiation and portfolio management.
The group aims to stay ahead of trends to build a robust and anti-fragile business, which was highlighted as it grew production each year since 2019, including record-setting years in 2020 and 2021. Since Q4 2019, the team completed more than 375 transactions, ranging from rural 2,000-square-foot de novo assignments to 30,000-square-foot on-campus lease renewals. During the past three years, the team expanded its transactional experience to 94% of the top 50 MSAs by population, completing more than $400 million in transactions.
Read the full story here: Healthcare Influencers | GlobeSt