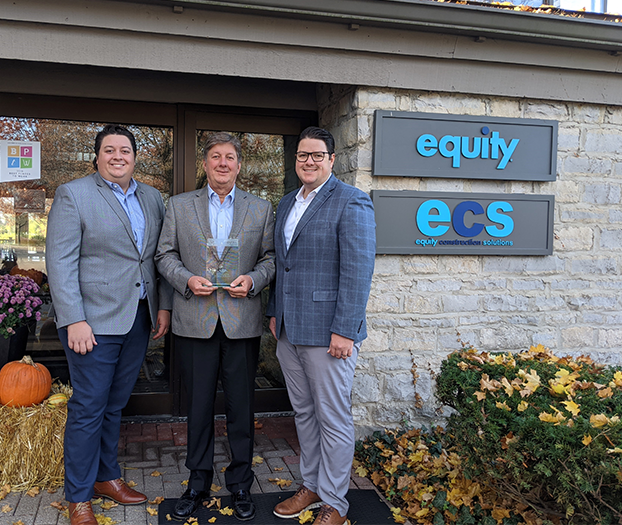 Wathen Family Awarded Succession Planning Award
November 18, 2020
The Conway Center for Family Business has awarded the Wathen family its annual Succession Planning award.
The Wathen family was nominated and selected for the award in recognition of their plan for maintaining and growing their family businesses, Equity, ECS and Equity Velocity Funds, over multiple generations. Over the past several years, Steve Wathen, Founder and CEO, has been working with his sons, Patrick and Austin Wathen, to develop a succession plan that provides continuity, growth, and social impact over the next generation and beyond.
While Steve still serves as CEO, Patrick Wathen leads Equity Velocity Funds, the family's real estate private equity investment company. Austin Wathen leads Equity's brokerage operations.
Steve commented, "From my perspective, the best part of getting the award is not the recognition; it's the confirmation, for me, that our family is doing something right in terms of multi-generational succession. Achieving it in such a way creates significant future opportunity for our company's associates as well as our family."
Steve founded Equity in 1987. According to him, the vision to start a commercial real estate company came to him shortly after he bought and renovated a rental property in college. Now, the business has transformed into a national, full-service commercial real estate platform offering brokerage, development, property and asset management, construction, and investment services. The inspiration for the family's succession plan originated with a scenario that Steve calls "desert isle", which he describes as follows:
"I'm flying my small plane over the ocean, my engine quits, and I land on a deserted island. When I don't return from my flight, everyone presumes that I'm lost at sea and I'm dead. Two years, later I am discovered and rescued. When I return home, I walk into Equity | ECS' front doors and I find that business is bigger and more successful than when I had last been there. This is a result of having the right leadership and processes in place, along with a seamless transition plan. It connotates the fact that a well-organized and documented succession plan secures the future and does not rely on the activities or accomplishments of one individual to achieve the vision set forth for the company."
Austin and Patrick have both worked in the family business for several years.
"It's a great honor to win an award like this from an organization that has been immensely helpful to us as a family business," Patrick said. "It certainly is not an indication that we 'have all the answers,' but that we are diligently working towards a common goal as a family, and that we recognize the impact that a family business can have on our associates and community. I believe that our family unity of purpose and direction will allow us to be successful in this transition and beyond…then it's up to Austin and I to figure out the much more tricky transition to (hopefully) a 3rd generation."
"I have always looked up to my dad and brother. It's hard to believe that we've come to a point, not only in my life but my career, of receiving something like a succession award. We are looking forward to building on the strong foundation our dad created, and supporting the growth of this company, our teammates, and the communities that we are in for many years to come. If we do it right, Patrick and I are hopeful our kids and their kids can continue what their Grandfather/Great Grandfather started," Austin said.